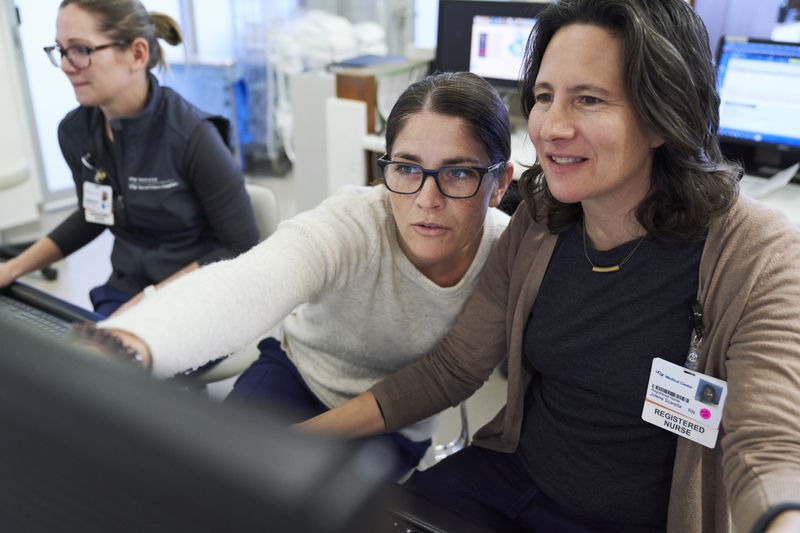 Get ready for UCPath
What's coming with UCPath
  New concepts and data structures
UCPath introduces new concepts and data structures. Terminology changes, additional attributes, and new values will be used to describe human resources and payroll elements.
Position Management is the common thread that binds job, funding, and organizational details. An employee associated with a Position creates a unique Job.

A Position represents a filled or vacant role in a department. 

Funding defaults will be applied when chartfield distribution details are missing or invalid.
UCPath approval workflow (department, UCSF central, and UCPath Center) will increase processing time in some cases.
Processing timelines, including deadlines to submit and process funding entry and salary cost transfers, will be changing.
UCPath leverages the familiar PeopleSoft WorkCenter concept to manage pending approvals.
Composite Benefit Rates (CBRs) will be implemented with UCPath. Instead of charging departmental chartstrings for the employer contributions to employee benefits based on the actual individual benefits costs of each employee, UCSF will charge a fixed percentage of an employee's salary based on the employee's title code and benefits eligibility. Rates will be banded into tiers and assessed on actual earnings. Detailed breakout of individual benefits charges will not be visible in MyReports. The Office of Sponsored Research (OSR) will apply CBRs in proposal budgets effective October 15, 2019. Use of CBRs does not affect the amount individual employees pay for their benefits. To learn more about CBRs (including proposed rates), see the Budget and Resource Management CBR website. 
  New terminology
UCPath introduces new terminology. Terminology changes, additional attributes, and new values will be used to describe human resources and payroll elements. Use the UCPath Glossary to look up common terms and acronyms.
Crosswalk of select terms

| Current Term | Future Term |
| --- | --- |
| Appointment Percentage in PPS | FTE in UCPath.  Full-Time equivalency (FTE) is the percentage of full-time that a worker should normally work in a job. UCPath calculates FTE based on the scheduled standard hours entered for the employee divided by full-time standard hours. |
| Appointment Type in PPS | Employee Class in UCPath. An employee categorization field in UCPath used to identify the appointment type. |
| Home Department in PPS | HR Department in MyReports and other downstream systems to associate an employee with a primary department.  HR Department is the department associated with an employee's primary Position. Not a UCPath term or concept. In UCPath, department is associated with a position not the person. |
| DOS Code in PPS | Earnings Code, Earn Code, ERNCD or ERN CD in UCPath. Earnings Codes categorize payroll expenditures. |
| Employee ID in PPS | UCPath Employee ID in UCPath and UCPath Empl ID in MyReports. The UCPath Employee ID is a system-generated unique identifier for all employees across all UC locations. Employees will see their UCPath Employee ID on their paystubs and in UCPath online. UCSF employees, contingent workers, and affiliates will continue to maintain a UCSF Employee ID used for local system access. |
| Funding Source in MPM and Funding in PeopleConnect | Funding Entry in UCPath. Funding Entry is the process of entering chartstring(s) into the custom Funding Entry (Department Budget Table) pages to indicate distribution of costs for earnings and benefit/fringe expenses. |
| Chartstring(s) or FAU(s) in current processes and PPS | Funding Source in UCPath. Funding Sources within UCPath are reflected as chartstring combinations that are used to create journal entries when interfaced to the general ledger within the financials system. |
| Title Code in PPS | Job Code in UCPath. Job codes are used to define job titles and related classifications, including job families, FLSA, compensation rate ranges and steps and EEO compliance categories. Job codes are different from positions. All employees will be assigned a job code; however, positions can be tracked without an incumbent. Positions track details for a specific job in a specific department location, union, and funding source regardless of whether an incumbent exists. |
| Payroll Expense Transfer (PET) or PETU in current process | Salary Cost Transfer (SCT) and Direct Retro in UCPath.  SCT/Direct Retro is a reversal of payroll expenses (salary and benefits) charged to an original chartstring and a re-posting to a new chartstring. |
| Collective Bargaining Unit in PPS | Union Code in UCPath. The Union Code identifies an employee's affiliation to a specific bargaining unit. |
  Funding entry
Funding entry is the process of entering chartstring(s) into UCPath to indicate how to distribute costs for earnings and benefit expenses.  Campus funding entry processes will be streamlined using UCPath and performed at the local department level.
UCPath Funding Entry will replace the Magical PAF Machine (MPM) and PeopleConnect funding entry forms and fields for campus academic and staff funding identification.
Funding Entry will require a department Initiator and Approver to complete all transactions.
Chartstring validation during Funding Entry and use of default distribution chartstrings will reduce the number of payroll suspense items.
  Magical PAF Machine (MPM)
The campus Magical PAF Machine will be retired.
UCPath will replace the Magical PAF Machine (MPM) for entry of funding distribution information.
Additional MPM processes and reports will be relocated.
  Salary cost transfer process
A salary cost transfer is a reversal of payroll expenses (salary and benefits) charged to an original chartstring and a re-posting to a new chartstring. The UCPath salary cost transfer process will replace the Payroll Expense Transfer Uploader (PETU) form and related salary cost transfer processes for payroll expenses processed through UCPath.
UCPath salary cost transfers will require a Department Initiator and Approver to authorize all transactions.
Exceptional approvals required for high-risk transfers will be routed using UCPath.
Departments will continue to be responsible for identifying and initiating salary corrections. You should continue to follow all pre-submission policies and guidelines for authorization and concurrence.
UCPath salary cost transfers will be processed daily and posted to the general ledger more frequently than PETUs.
Data will be visible in MyReports after posting to the general ledger.
UCPath salary cost transfers can be completed up to the third business day of the following month to be reflected in the current open period.
Corrections to salary for the months prior to go-live will continue to be submitted using a PETU and will be processed in PPS. An end date for this transition process will be announced later in 2020.
  Enterprise reports
Current human resources, payroll, and financial reports will be retrofitted or retired. New reports will be available to display new data from UCPath.
MyReports
MyReports Distribution of Payroll Expense (DPE) Report, Transaction Detail Report, Alt Account Detail Report, and Labor Productivity reports will be retrofitted to display both historical data and new data from UCPath.
MyReports Employee Lookup Report, Employee Appointment Report, Employee Distribution Report, HR Monthly Review Report, and Faculty Portfolio Projections will be retired.
Two new reports will be created: Employee and Position Roster Report and Employee Distribution Report.
Local data needs
A new Operational Data Store (ODS) will contain UCPath human resources and payroll data for authorized data needs.
Retrofits of local data applications are being managed by the Integrations workstream.
  UCPath training and support
UCPath online's modern interface is easy to use, and many forms of help will be available to assist you as we approach go-live. Training materials will be available beginning in March 2020. 
Job Aids and online help will be available for UCPath transactions.
Self-paced eLearning modules will show you step-by-step.
Classroom training designed specifically for department transactional users will be available.
Post go-live support will be available at multiple UCSF locations.
This UCPath website will be continually updated to provide you with the latest information.
If you have questions about current human resources or payroll processes:
Contact your HR Representative if you have questions about current human resources processes.
Contact the Controller's Office Solution Center if you have questions about current payroll processes.
Do NOT contact the UCPath Center at this time. The UCPath Center does not yet have access to UCSF data and cannot provide support for UCSF until go-live.