You can log into the UCPath online portal using the link above or through MyAccess  . Use of VPN is not required. 
How to log into UCPath online
Choose University of California, San Francisco from the list.
When prompted, enter your MyAccess credentials (use your Active Directory ID, not your SF# ID or email account).
Follow the steps shown on screen to complete Duo multi-factor authentication.
Use of Duo multi-factor authentication is required each time you use UCPath online. You already use Duo if you access VPN, Outlook Web Access, APeX, or ConnectPortal.
If you do not currently use Duo, follow the instructions on the Information Technology web page  to enroll. 
Additional steps required on your first login
Complete your self-identification information  . You may select "decline to state" for any question, but sharing information provides important data about UC's workforce and informs UC's efforts to create an inclusive environment. 
Set up security questions and answers  .  These are used to validate your identity, and protect against unauthorized access or changes to your information. 
For more information
Read more about UCPath online user roles and access.
Former employees and retirees who received pay that was processed in UCPath can register for special access to UCPath online to view earnings statements and W-2s. Access to UCPath online is not available to former employees and retirees who have not received pay through UCPath (i.e. separated or retired prior to implementation of UCPath).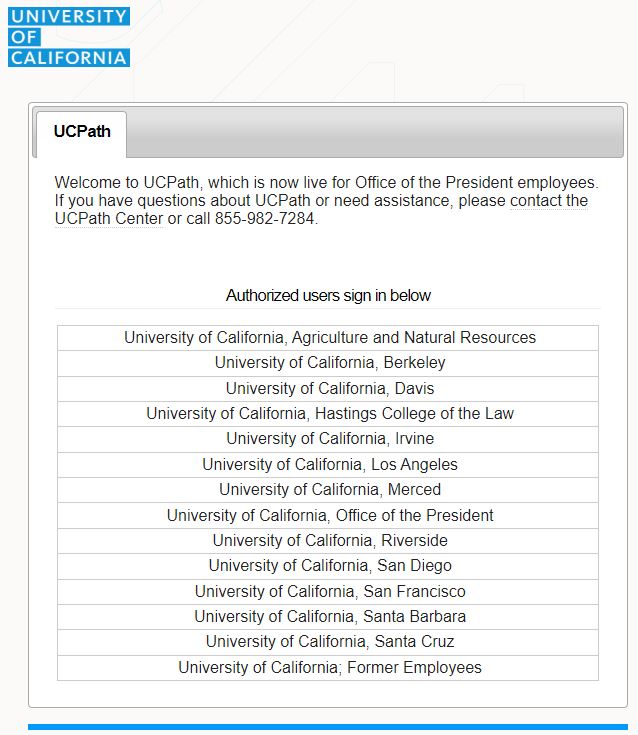 Get Help
---